Large format tile has grown in both popularity and size over recent years. So, should you use it in your bathroom remodel? Read below to find out if it's a good choice for you!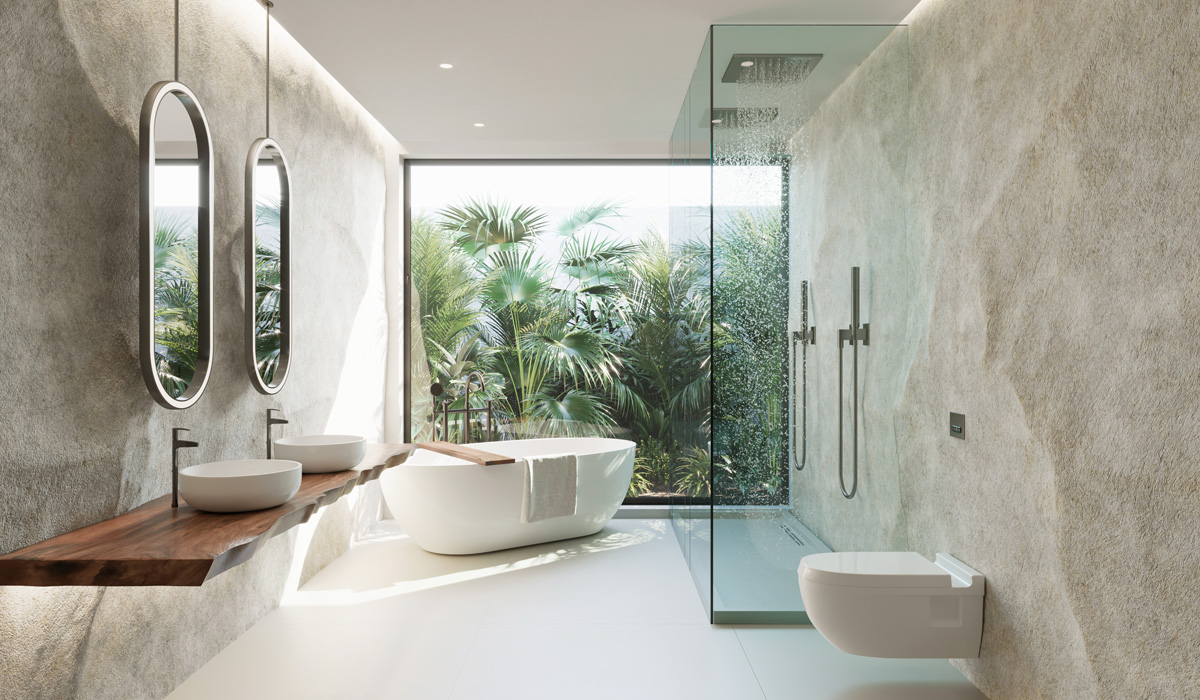 Large format tile has become increasingly popular over the last few years, and, with each passing year, it seems to just keep getting larger!
Oversized tile has firmly established its place as a top trend in the tile world and has definitively cemented (or tiled!) its place as a great option when it comes to look, maintenance, and durability.
So, what makes it such a popular choice? Well, whether you are looking to design a new bathroom or remodel an existing one, working with a large or a compact space, aiming for a traditional or a contemporary look, large format tile offers tons of aesthetic options and numerous advantages for your space.
In short, it's a versatile and high-quality choice for your floors or walls.
In this article we'll take a closer look at this booming trend and help you decide whether or not large tiles are right for you. We'll cover:
– What is large format tile?
– Advantages of using large format tile
– How to use large format tile in a bathroom
Let's get started!
What is large format tile?
Just twenty or thirty years ago, 4×4 and 8×8 tiles were the most popular choices for all types of tiled spaces (growing up in the 90s, my bathroom at home comes to mind!). And if it wasn't a 4×4 or an 8×8, maybe we'd have seen a 3×6 subway tile, which we know has been a popular choice for over 100 years.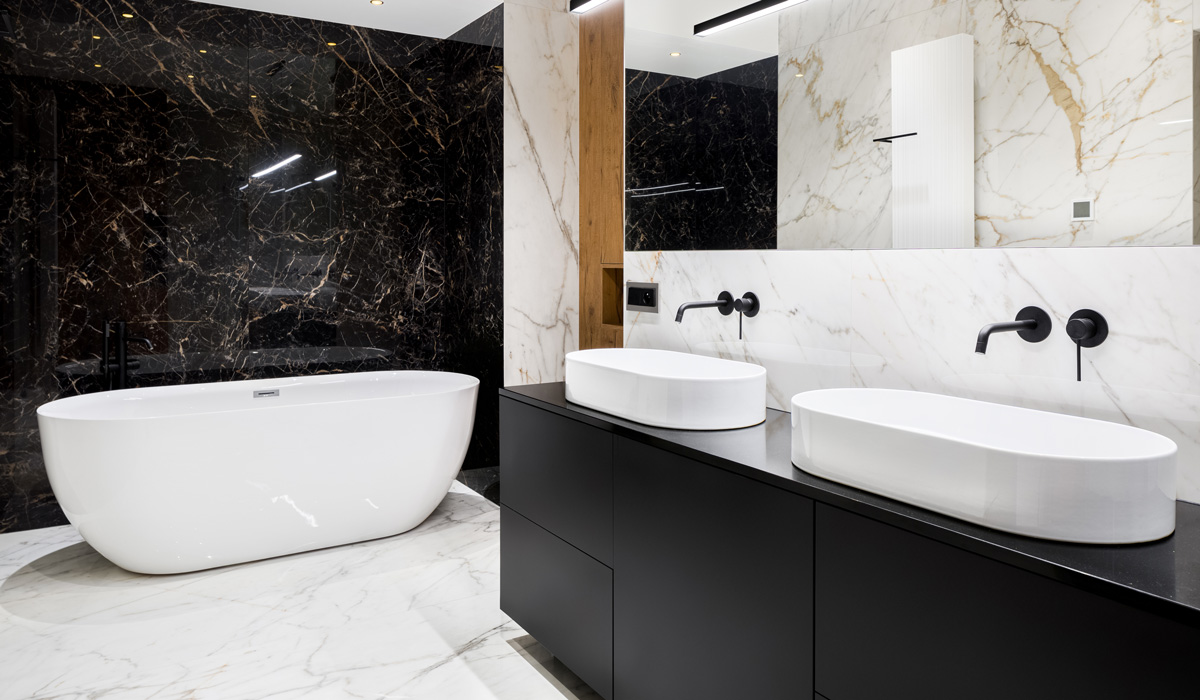 But in the last ten years, larger sizes have become an increasingly popular choice. But just how big does a tile need to be to qualify as a large format tile?
Today, the standard definition for a large format tile is any tile with any edge longer than 15".
But does that mean we should use a 15"x15" tile and call it a day?
No way! In fact, in today's world when talking about large format tile, much larger sizes usually come to mind. While popular sizes may start at 12"x24", they quickly increase to 24"x24", 24"x48", 48"x48", even 48"x96" or 64"x126"! Now that's a large tile!
With advances in technology and manufacturing, most tile manufacturers offer extra-large sizes for specific collections and products. These tiles can be installed on floors, walls, in showers or as a backsplash…there are tons of design options waiting to be discovered.
And we aren't just limited to our classic square or rectangular shapes. Coverings showed us that oversized shapes, including hexagons, triangles, diamonds, and parallelograms can be an eye-popping design choice that can give character to a space.
Large sizes are versatile and can give us a ton of different looks. But before we take a look at how to use large format tile in your bathroom, let's first answer why you should at least consider whether a larger size could make sense for your space.
Advantages of using large format tiles
Going big with your tile can bring big advantages: from style to maintenance, there are plenty of reasons using larger sizes is a good idea.
Less Grout
It all starts with grout. Using larger tile obviously means that there will be less area to fill with grout. Less grout lines translate into a cleaner, sleeker, and more unified design. On walls, this means that large format tile can become an easy alternative to other popular choices such as paint or wallpaper, providing superior durability, along with all the other well-known benefits of tile.
And no matter where you install your large format tile, having less grout will mean less maintenance when it comes to keeping those grout lines clean.
As we all know, grout lines can quickly become stained and, in the bathroom, can become a popular home for mold and mildew. Grout requires regular maintenance and deep cleaning to ensure it stays fresh. So, when you have larger tiles, the formula is simple: less is more!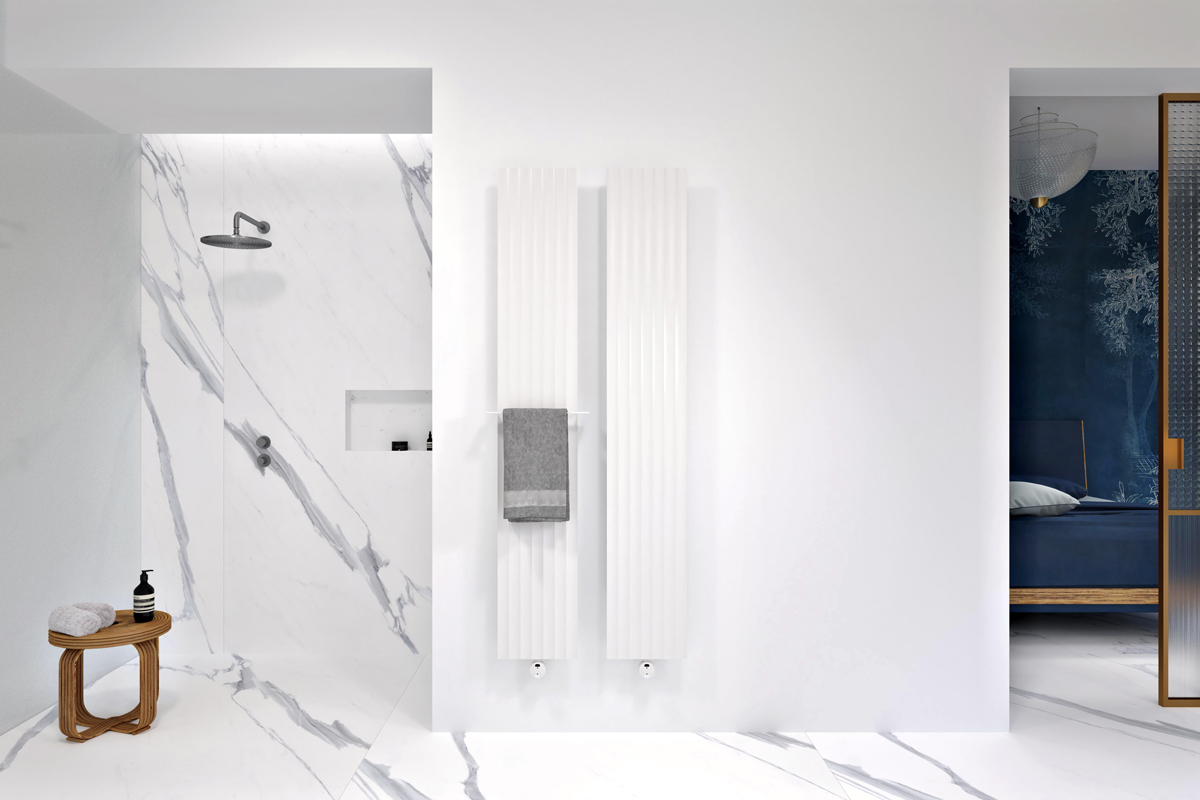 More Space
When it comes to style and design, large tiles can provide an overall feeling of spaciousness, whether you are using them in a large or, even more so, in a small space. They are a great choice for smaller bathrooms as they can provide uniformity and continuity across an entire area and give the illusion of extra space.
Plus, remember those minimal grout lines from before? Well, once again, having less grout lines keeps your eye focused on the overall aesthetic of the tile and the continuity of the overall visual appearance in front of you.
A modern and trendy look
Large format tiles also provide a modern and contemporary look to your space. Plus, they are very trendy and an increasingly popular choice for all sorts of spaces, ensuring that your new room is following the latest interior design tendencies.
What about installation?
While large format tile can present challenges during installation, especially due to its size and weight, with advances in technology and installation methods, larger tiles can now be even easier to install than your traditional smaller sizes. Plus, with larger tile, you have a smaller number of overall tiles to install, and this can result in less overall installation time.
As always, it's important to work with a professional who has experience and training on the proper techniques, challenges, and methods when installing this type of tile.
How to use large format tile in a bathroom
So, are you convinced that large format tile can be a good choice for your bathroom? If so, it's time to start gathering a few design ideas on how you can best use this tile to get the look that you need.
There are plenty of places to look for inspiration, from industry magazines, to social media accounts focused on tile and interior design, to manufacturer websites and of course your local tile store.
Getting Started
For now, let's start with a simple rule of thumb: if you use large rectangular sizes horizontally, it'll make your space look wider while if you use them vertically, it'll make your walls look taller.
Like we said above, using large format tiles in a small bathroom gives a sense of continuity and can extend your space. You can even integrate your shower floor into your regular bathroom floor so that there are no breaks over the entire area of your bathroom, using a large format tile for everything.
Using large tile on your shower walls, while an elegant and sleek choice, also gives you the opportunity to highlight a decorative or accented area that uses small mosaic tiles, glass tiles, or any other design piece you desire.
Another tip: when using large format tiles, you can choose a grout color that matches your tile so as to keep attention on the overall uniformity of the space and minimize visual disruptions.
Many different style choices
When it comes to different styles, large format tiles can satisfy the needs of a number of looks. Let's start with an industrial style bathroom, where large sizes can help create a clean, simple, and uniform look that gives off vibes of bare-bones functionality.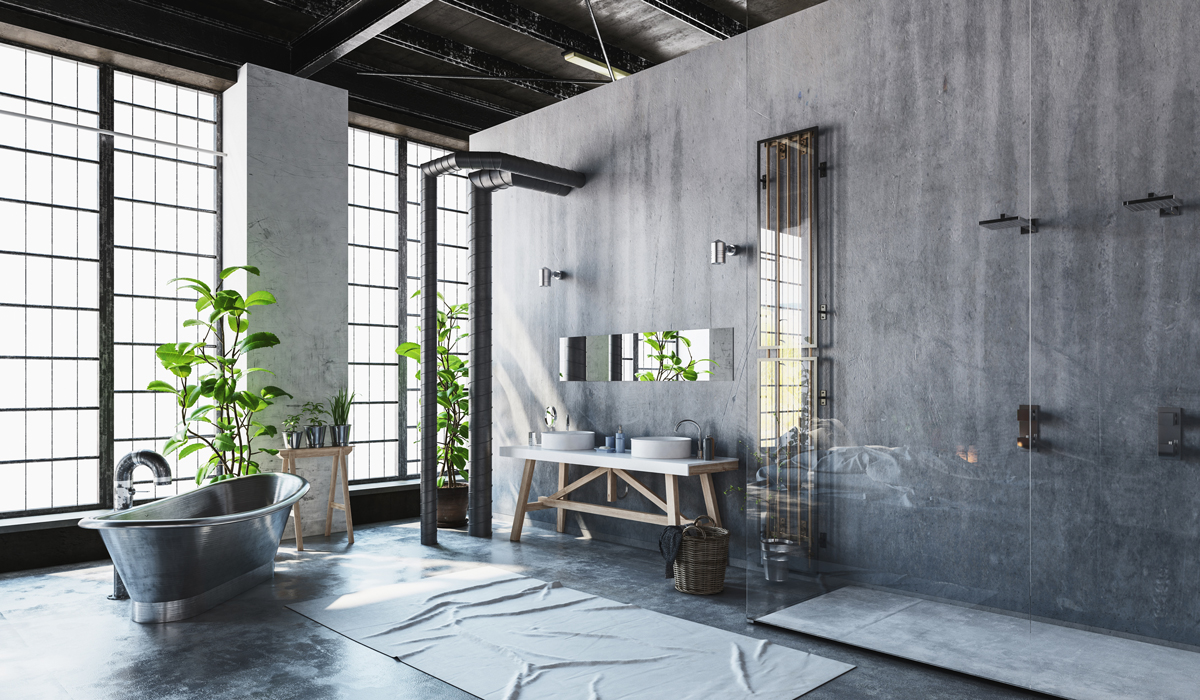 Large format tiles are most commonly matched to contemporary and modern spaces, and they provide the sleek and clean look that is characteristic of these designs. But they can just as effectively be used in traditional style bathrooms, where large marble effect porcelain tiles can shine and create an overwhelming sense of elegance.
And while small tiles can be used on the walls or shower of Scandinavian style bathrooms, large format tiles can be a great choice for a simple and minimalist look on either the floor or walls.
Versatility above all else
That is what makes large format tile such a great design choice for bathrooms: it is extremely versatile and can give you any desired look that you want to create.
But you don't need to stop in the bathroom; these tiles can be used throughout the home, from the kitchen (large slabs make for extremely elegant backsplashes!), to the living room floor.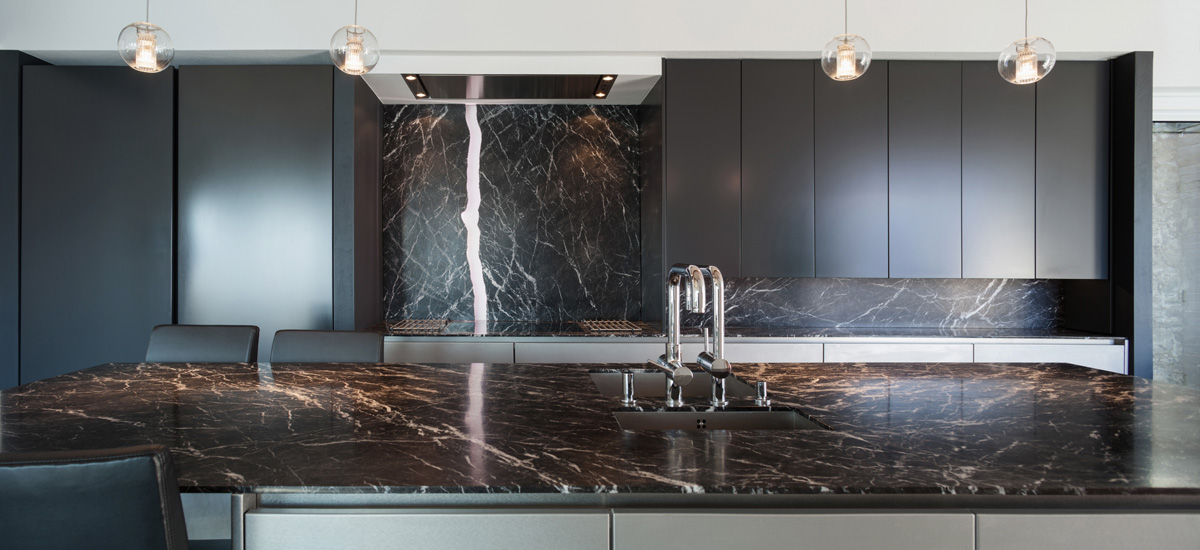 In Conclusion…
Large format tiles are a great choice for your bathroom as they are easy to clean, easy to maintain, and look, well, really good.
They have become an increasingly popular choice over recent years and have expanded to cover more sizes and more styles. Whether you are thinking of a mid-size tile like a 12×24" or an extra-large slab over 8 feet long, there is sure to be a large format tile out there for you!
So, summarizing our discoveries, we looked at:
– What is large format tile?
– Advantages of using large format tile
– How to use large format tile in a bathroom
Now that you know all there is to know about these oversized tiles, all that's left is to start browsing to find the one that's right for you! And while you are picking out your tile and designing your new space, don't forget the benefits of using professional interior design and rendering software, like our program DomuS3D, to help you visualize your space in 3D.
Good luck designing and see you next time!