What are the main characteristics of the industrial chic style? What are the best furnishing items and fixtures to choose for an industrial inspired bathroom? Follow along with this article to discover the most important elements you need to create an industrial style bathroom.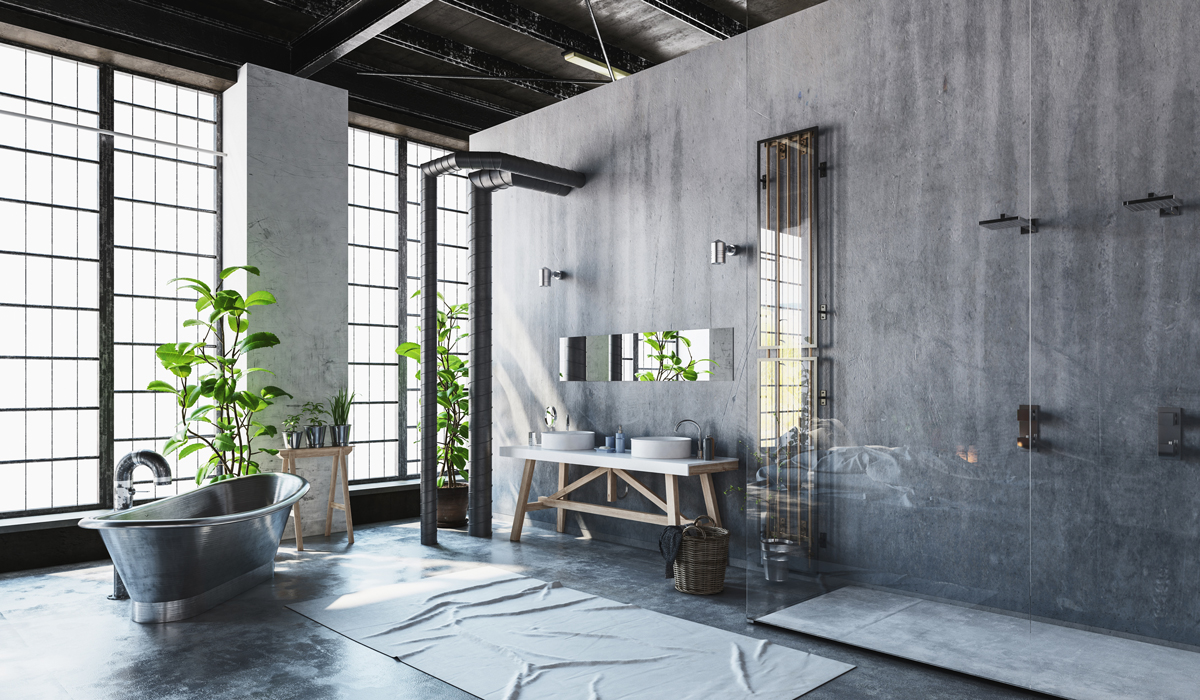 The industrial style, or industrial chic, has become one of the most popular trends in interior design in recent years. Industrial chic is not only popular when it comes to bathroom design, but for the entire home, and for commercial spaces and offices, as well.
This has led a number of manufacturers, including tile, furnishing, fixture, and home décor manufacturers to develop and market entire collections inspired by a distinctly industrial style.
But let's take a step back: what are the origins of the industrial style in the history of interior design?
Industrial style décor found its inspiration from the myriad of abandoned factories and warehouses in the United States during the 1940s and 50s. These spaces were often converted into workshops or studios for artisans and artists, often becoming their home in the process.
This gave light to large open spaces that were simple and functional, perhaps appearing bare, but at the same time full of character, combining elegance and simplicity, in the best of ways.
The use of recycled materials, alongside materials such as metal, wood, and exposed brick, are only a few of the distinctive traits of industrial style design.
In this post, we'll take a look at everything we need to know to design an industrial style bathroom.
In this article we'll look at:
-Materials to use for an industrial style bathroom
-Using second hand furniture and objects
-Architectural characteristics of the industrial style
-Light in an industrial chic bathroom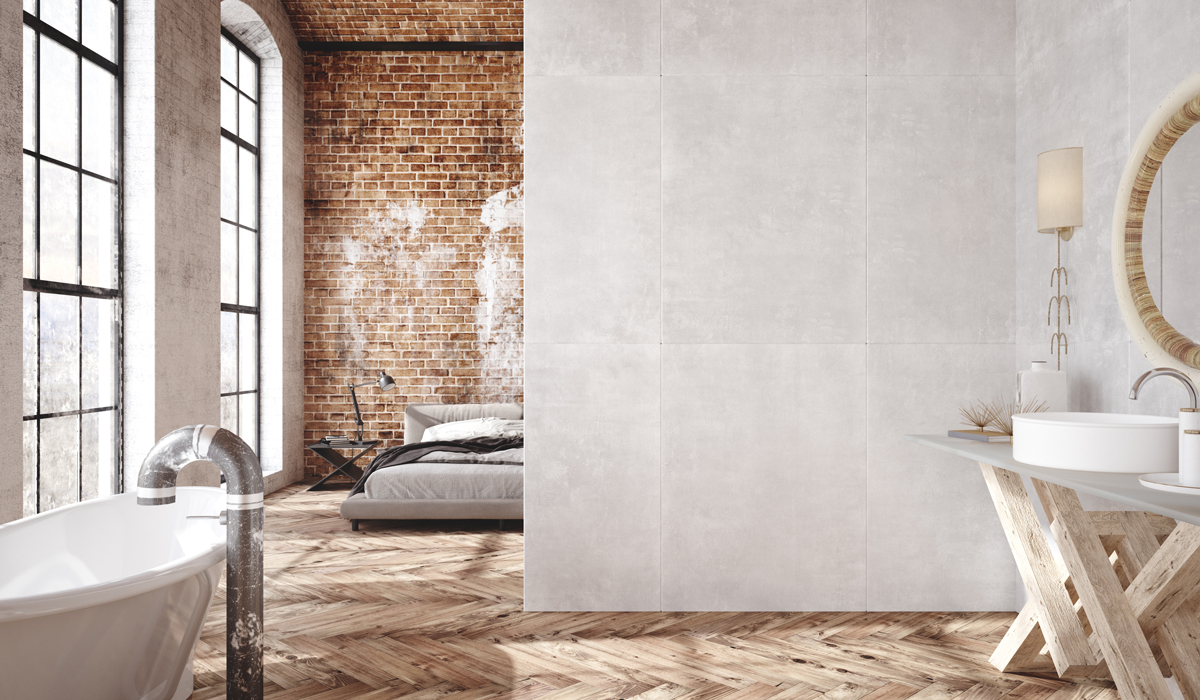 The choice of materials, finishes, and colors is an essential part of any interior design project, and even more so for an industrial style project, where we have a number of distinct elements.
Wood
Let's start with wood, where we can use it both in our furniture, such as in a vanity, and for our flooring. In an industrial chic bathroom, it's better to use rough wood with a used or antique feeling for our furnishing elements.
The best choice may be to use reclaimed wood or reuse whole or parts of antique furniture, or even simply pieces that are no-longer used.
For our flooring, we can choose large wood planks, or wood-look tile, preferably with material textures and natural nuances.
Concrete
For our flooring and walls, and even for our vanity top, we can definitely consider concrete effect materials, a top choice for an industrial look. There are tons of products on the market, for example in resin or porcelain stoneware, which can give us the desired look.
Metal
Another material that we can utilize in our industrial style bathroom is metal. Again, the best choice here is to opt for a metal with a rough, raw look. It's best to avoid chrome faucets or accessories and instead aim for simple shapes, straight lines, and a minimalist look, in black or dark gray.
If you're feeling particularly daring, you can even opt for a rusty look!
The contrast between wood furniture and metal accessories is a winning combination that will definitely give your bathroom an industrial feel.
Brick
And last but not least, let's not forget to mention exposed brick. Terracotta clay, with its brick red color, is a typical feature of the industrial style. Exposed brick, used in the construction of old industrial warehouses, can now be used to give a warm and older feeling to a space, with clear reference to the industrial style.
Bricks, or a brick effect, can be used to cover one or more walls of your bathroom, giving unique character to your space thanks to the warm tones of this material.
Using recycled objects and reclaimed furniture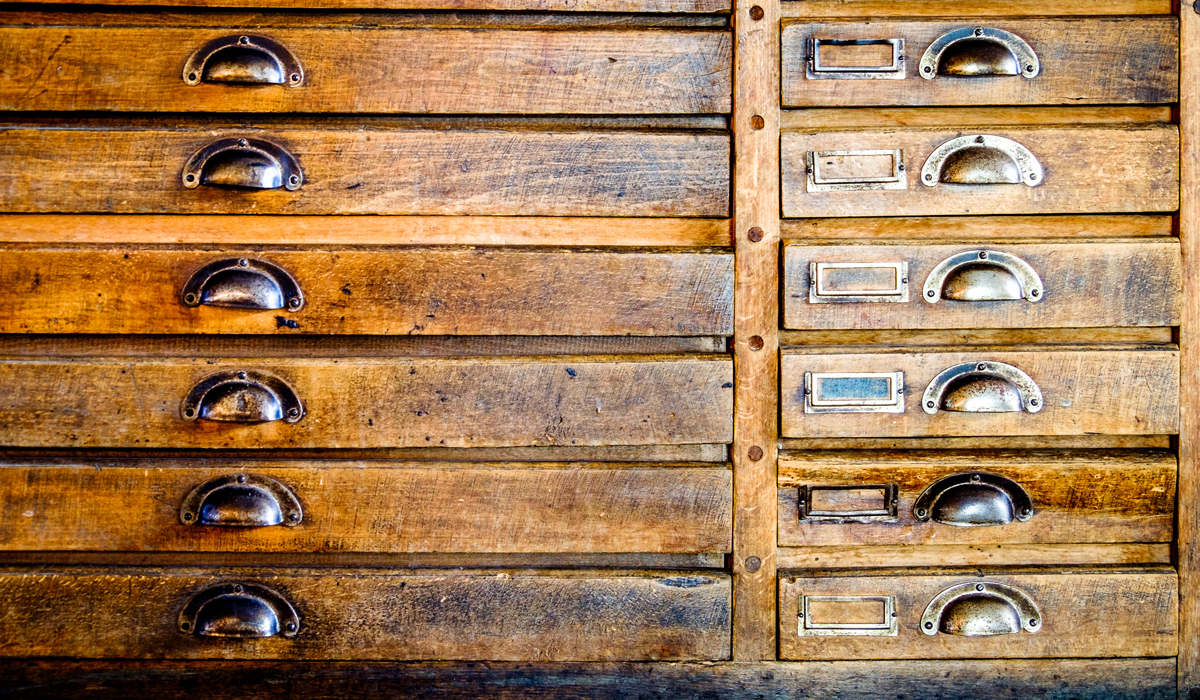 Along with the structural aspects of your bathroom (i.e. the flooring and walls), let's not forget about the accessories that will style our space.
For these elements, the same rules apply as when choosing our materials.
Small objects and décor pieces placed throughout our bathroom are what enrich our room and create a common thread that ties together the overall style of the entire space.
The use of recycled or reclaimed materials is one of the main interior design trends of 2022 and it will definitely remain so in the years to come.
For your industrial style bathroom, you can recover old furniture pieces, or even just parts of them, and give them new life. The "used" look shouldn't scare you but rather excite you! It can give your bathroom a unique look and fill it with character.
One original idea could be to adapt an old wooden filing cabinet into a vanity or storage unit that lets you organize your linens, make-up, and other beauty products and toiletries.
Exposed architectural elements
We've already said that an industrial style space is, above all else, functional and essential in its design and without superfluous decorations. This is valid for an industrial style bathroom, as well.
This characteristic is precisely what allows us to highlight and give the proper importance to all the elements present in our room, especially if they are particular or distinct to this style, such as, for example, our architectural elements.
Our advice is to take full advantage of the elements present in the space. Don't hide them but rather highlight them and bring attention to them! Exposed beams and exposed columns or pillars are all elements that should be honored, perhaps with proper renovation (if needed), and certainly not hidden behind drywall or plaster.
These elements give an industrial style space a more authentic feeling.
Exposed pipes can be a great addition to your industrial style bathroom, as well, giving the entire space an authentic and true look of an industrial warehouse or factory of the old days.
Light in an industrial style bathroom: natural and artificial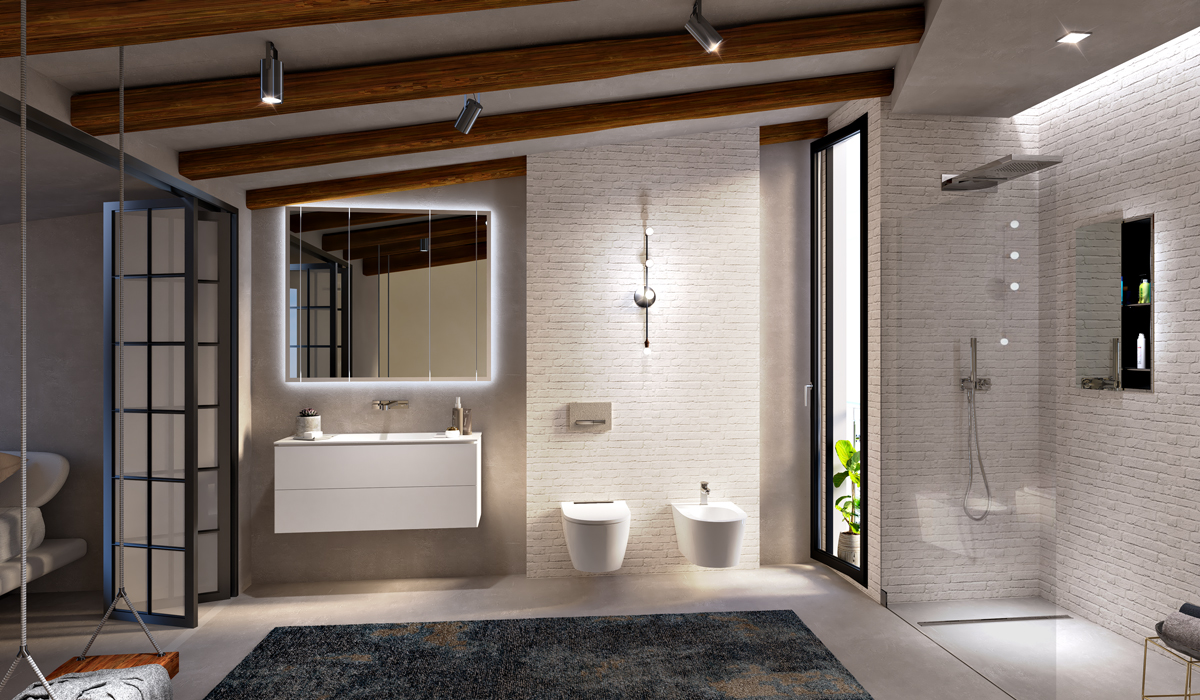 Lighting is always an important part of an interior design project and in an industrial style bathroom, it is a crucial element. Industrial spaces, for example a loft, are always characterized by large glass windows that fill the space with natural light.
That said, in an industrial style bathroom, it's not always possible or practical to have extra-large windows or glass. One solution can be to let light in from above, through skylights or roof windows.
Alternatively, you can focus on artificial light sources. There are tons of original solutions that can give your bathroom an industrial look. For example, you can use pendant lights, such as a hanging metal light or, even better, pendant light bulbs. There is also a wide range of options for spotlights or floor lamps, but always make sure to focus on metal and straight, simple lines.
These functional elements contribute not only to the illumination of your room but also to the overall character of your space.
---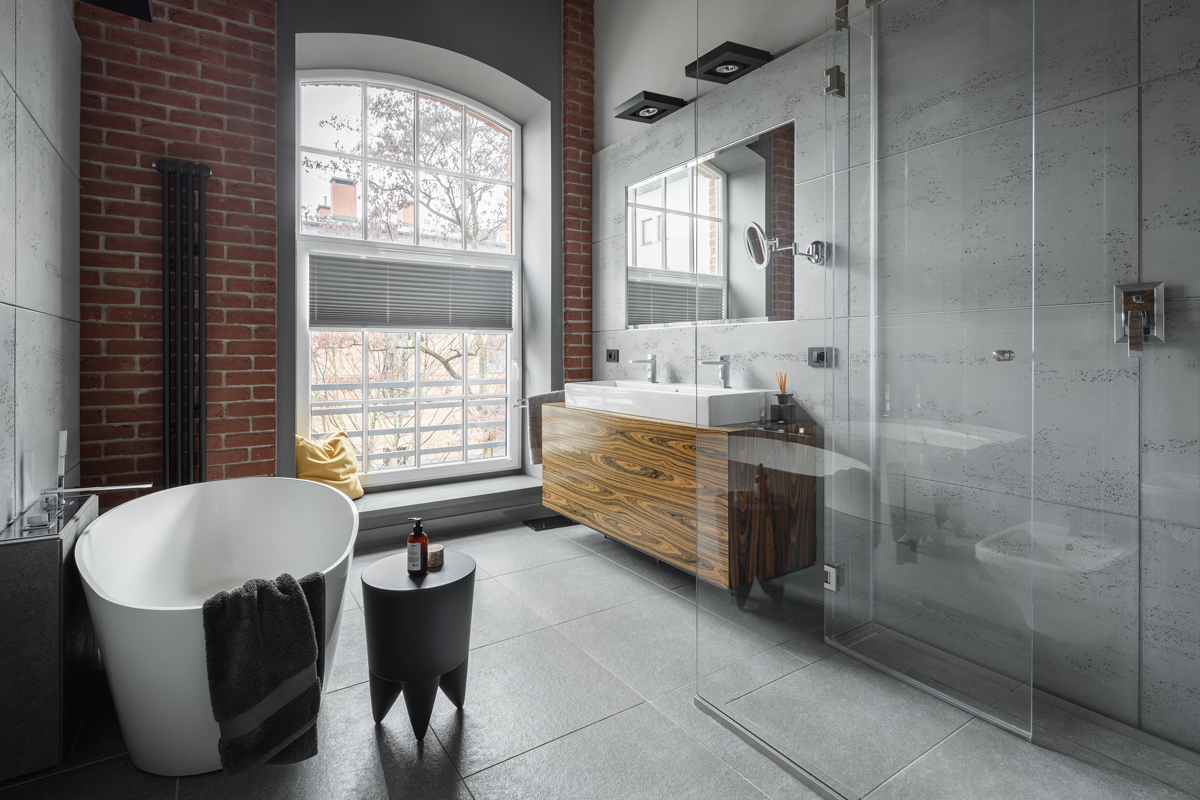 Creating an industrial style bathroom: now it's your turn!
At this point, we can take a look back at what we saw when it comes to designing an industrial style bathroom and its essential features.
For any industrial space, functionality is the most important part. Each and every element must serve a unique purpose for the creation and fruition of the space and cannot be purely decorative.
We saw the principal characteristics of an industrial style bathroom and we even took a look at a few tips to help create the right atmosphere. As always, there are tons of options to choose from, it's now up to you to decide what elements are best suited for your home, your tastes, and your next interior design project.
All that's left is to start designing your industrial style space!
Happy designing and see you soon!