Over the last few years, wallpaper has made a huge comeback and is now in high-demand for residential design and beyond. We'll take a look at the major trends and offer some tips on how to best use wallpaper in your interior design projects.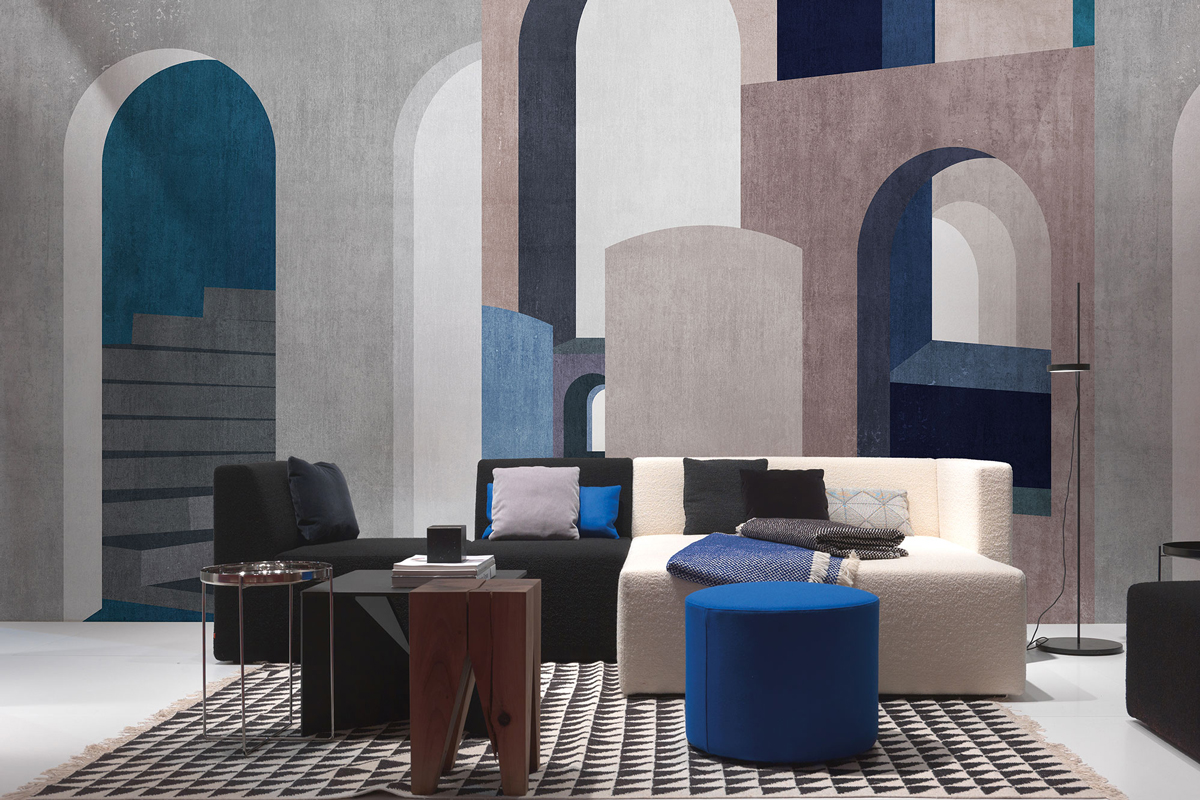 Although the use of wallpaper has been rapidly growing over the last few years, this decorative item draws its origins from a relatively recent past, one from which many of the most well-known brands today continue to find inspiration when creating new designs and patterns.
Wallpaper first appeared with the emergence of the printing industry and began to replace the tapestries of noble palaces, spreading rapidly from the noble classes, to the upper and middle classes.
Wallpaper's evolution over the years has brought about the use of many different materials with ever-improving technology, allowing wallpaper to now be used in any area of the home.
And just like with materials, the subject matter reproduced in wallpaper design has also grown: landscapes, cityscapes, outdoor scenes, floral and botanical motifs, abstract and geometric patterns, wallpaper continues to transform and absorb new visual content that favors its use in all types of spaces, not just traditional style homes but minimalist and modern projects, as well.
With the use of wallpaper it's possible to give unique character to any room, adding style and personality, even if applied to just one single wall. Wallpaper is a bold design choice with tons of versatility, able to fully express the personality of whoever lives in a space.
After a long period in which it was set aside, wallpaper has lit up in recent years and is now cooler than ever.
And so, in this article, we'll take a look at some of the most popular and trendy types of wallpaper and how they can best match different interior design and furnishing styles.
Let's get started!
1 – Tropical and Jungle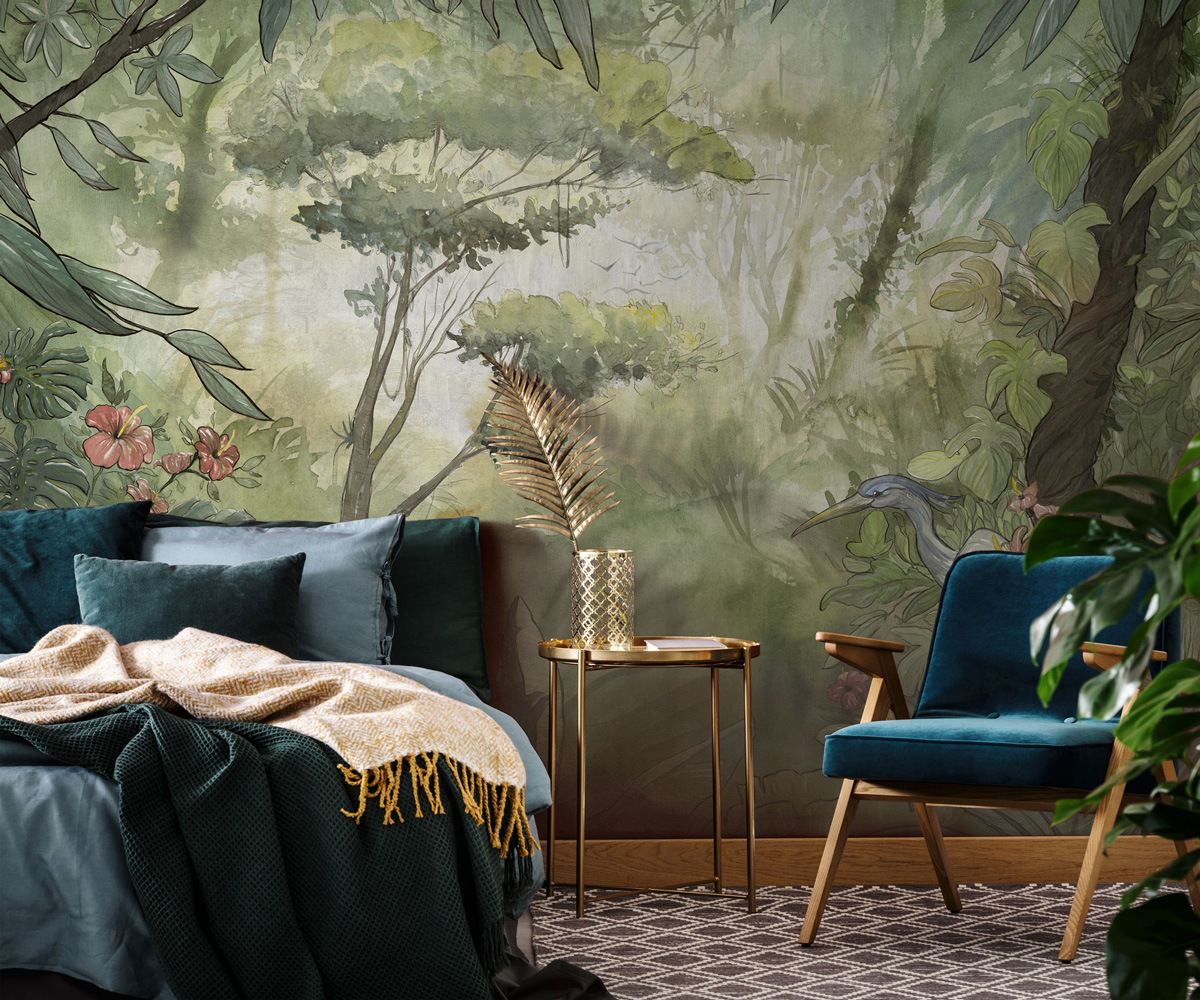 Jungle and tropical style graphics have confirmed their spot among the most loved and sought after wallpapers.
Lush greenery, exotic animals and bright colors are the main characteristics of tropical themed wallpapers.
These are obviously designs that are rich in detail and can be defined as maximalist. For this reason, our advice is to limit this type of wallpaper to one single feature wall of the room (at most two adjoining walls!) to give character to the room without the risk of overdoing it and overwhelming the space.
Jungle graphics are perfect for living rooms with minimal furniture and neutral color palettes, helping to create a playful and fun atmosphere and to fill the space with liveliness.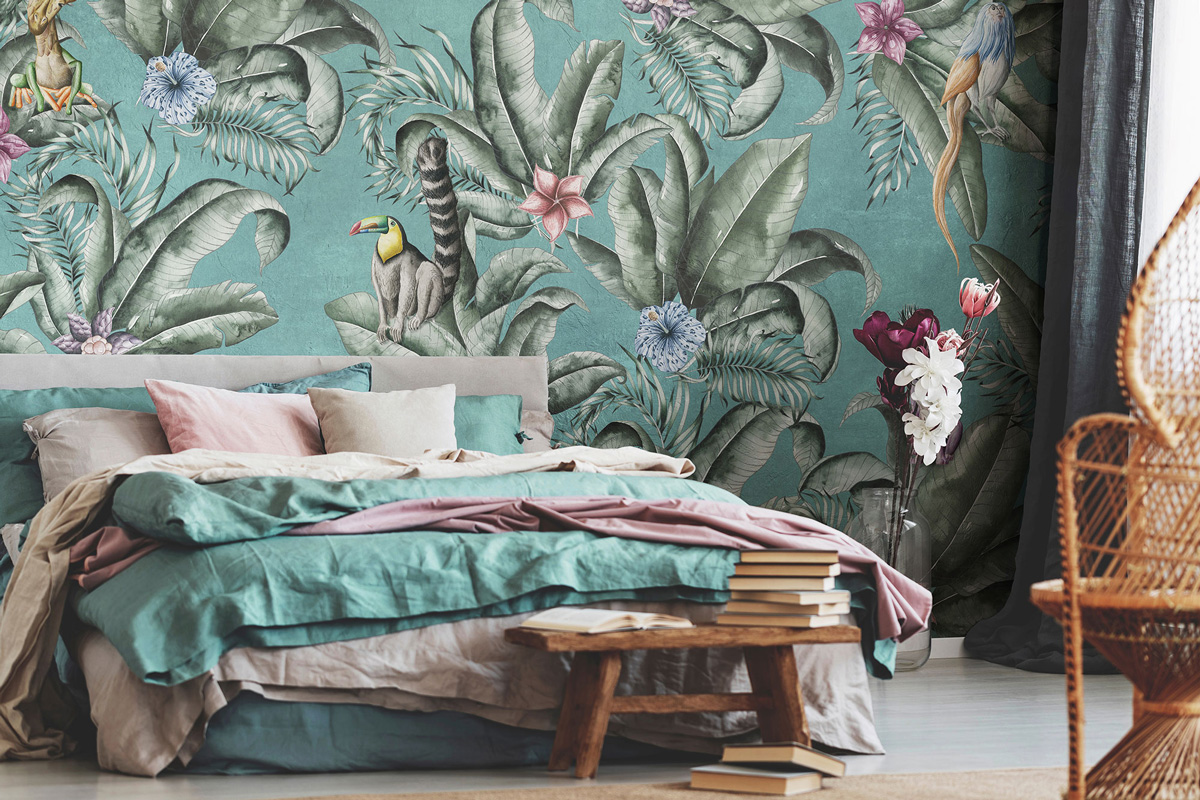 2 – Art Decò Inspired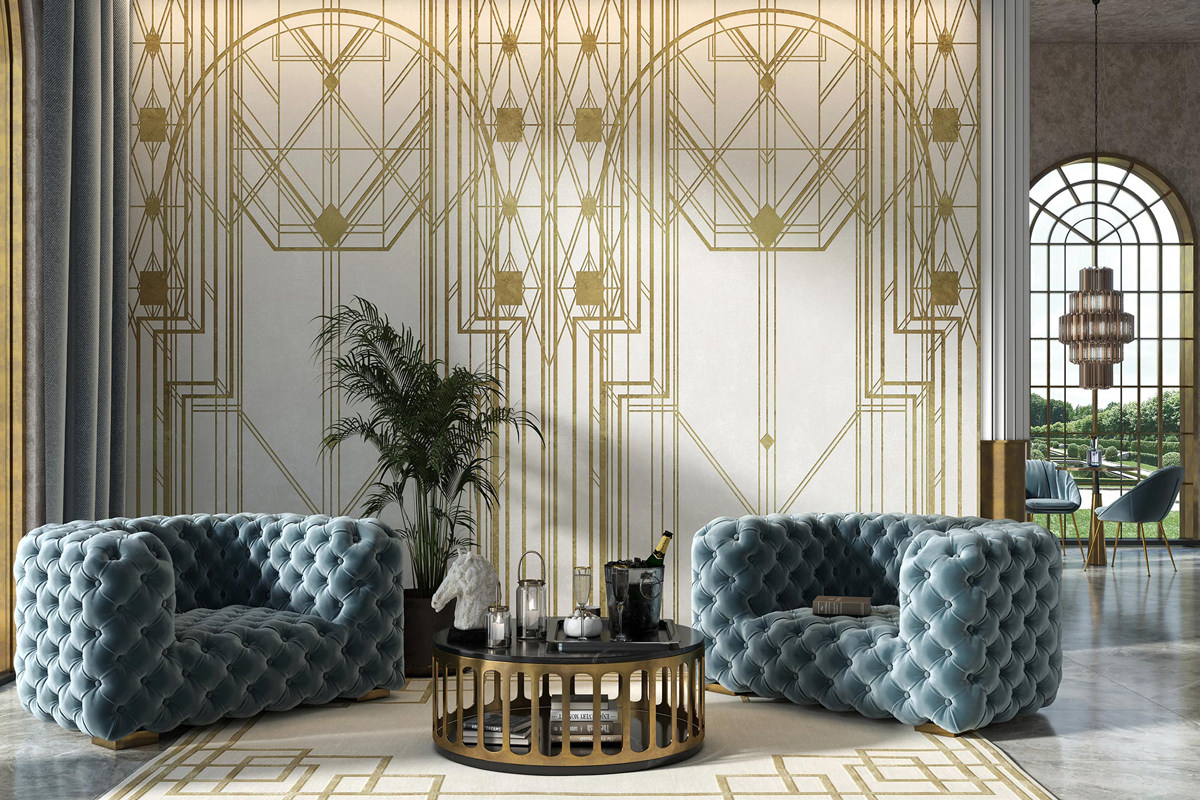 Class, elegance, and refinement are the keywords that best describe Art Deco style wallpaper. Characterized by geometric designs and the presence of gold and silver, these designs create a sophisticated and relaxing rooms, beautiful and timeless spaces able to recreate the atmosphere of the roaring twenties.
These are extremely versatile design pieces, perfect, for example, in living rooms, as well as in bedrooms to create a background behind the bed, or even to create a small corner study or a traditional style bathroom.
3 – Expand a space with Trompe l'oeil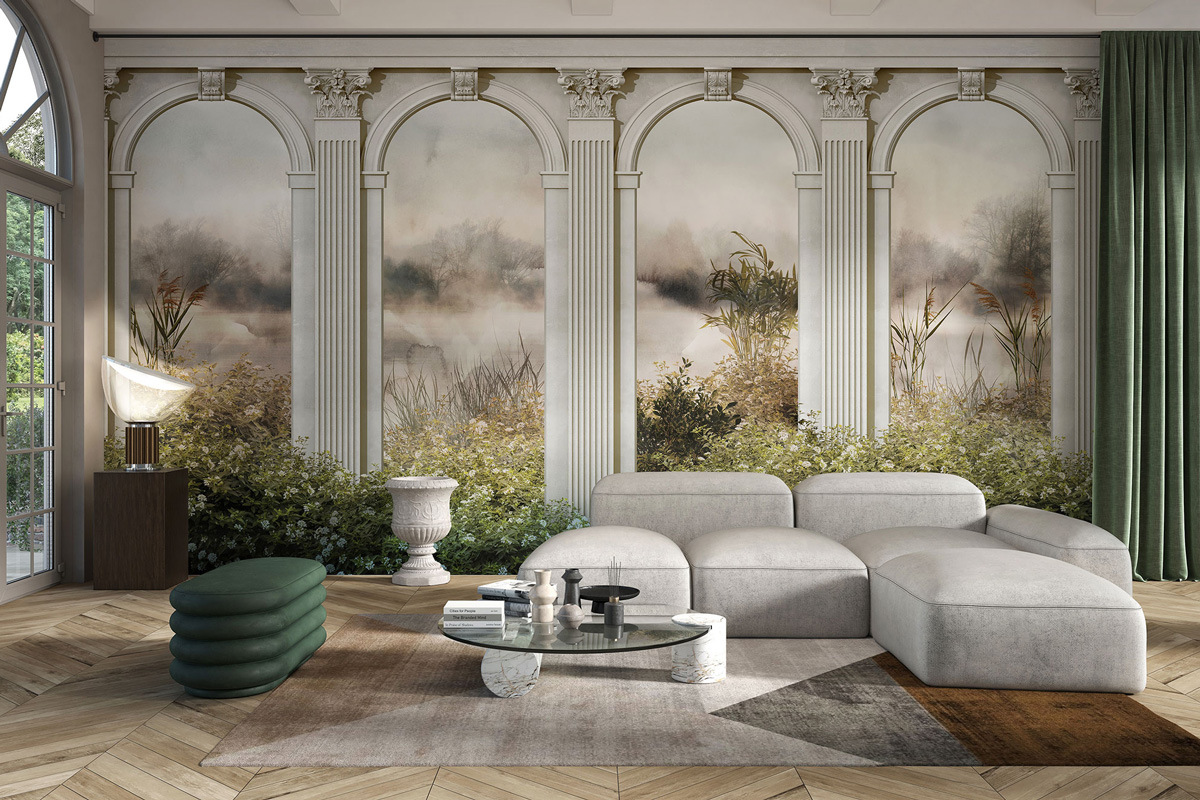 The trompe l'oeil theme has always been present in wallpaper. Trompe l'oeil refers to the entire artistic genre in which the representation of landscapes, objects, natural spaces or artificial perspectives is curated in such meticulous detail as to create the illusion of reality.
To put it simply, Trompe l'oeil focuses on optical illusion.
Trompe l'oeil wallpaper allows you, for example, to give the illusion of a larger space, or to catapult the viewer into another place, such as an exotic garden or even a different city.
To highlight the optical illusion effects of these products, our recommendation is not to place too many furnishing items in front of the featured wall to keep the focus on the wallpaper. Depending on the type of subject represented in the wallpaper, trompe l'oeil graphics can be adapted for any type of room, characterizing the overall décor in a decisive way.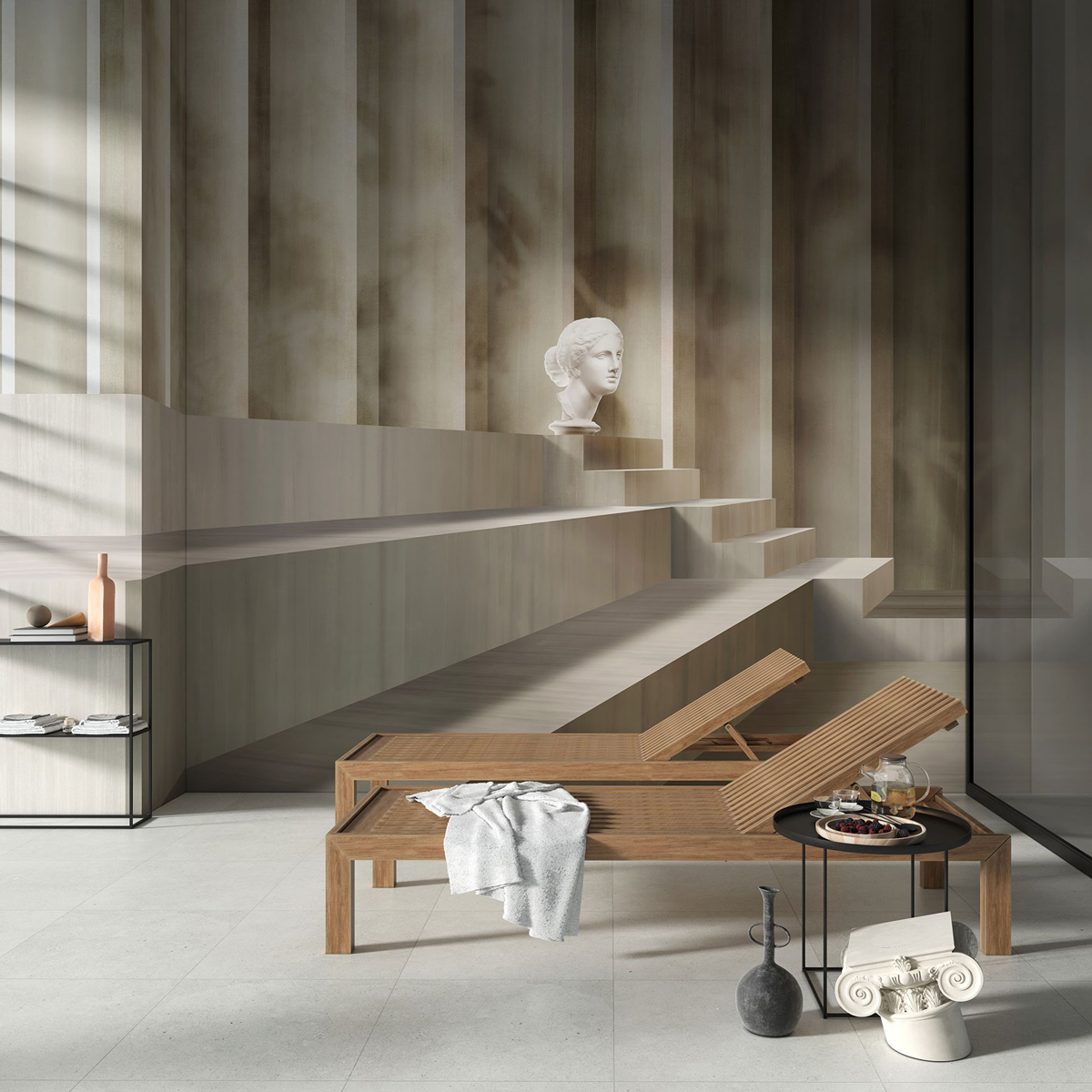 4 – Three-dimensional and Tactile Patterns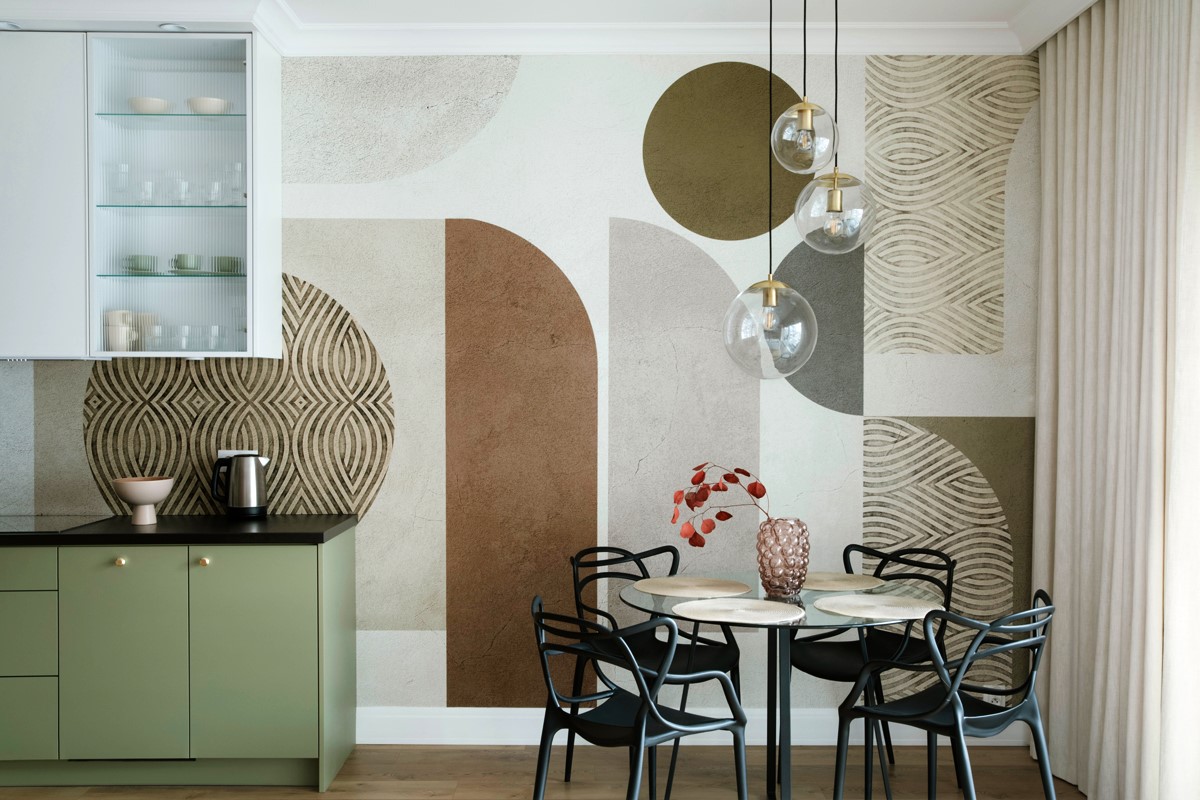 There are tons of wallpaper choices with geometric and three-dimensional patterns. And that's not all: thanks to new materials and innovative printing technology, today it's possible to reproduce a variety of textures using not only two-dimensional effects such as simple sheets, but three-dimensional, touchable textures, as well.
This type of wallpaper, therefore, is no longer just a visual experience, but also a physical experience to the touch.
And, what's more, certain wallpapers can help improve the acoustic qualities of a room thanks to the use of high-tech and high-performance material.
There are many three-dimensional wallpapers to choose from, patterns inspired by nature, with weaving, flowers, or greenery, or patterns with geometric and architectural themes. There is such a wide variety to choose from that the best advice is to simply choose the one that fits best with the room where it'll be applied!
5 – Chinoiserie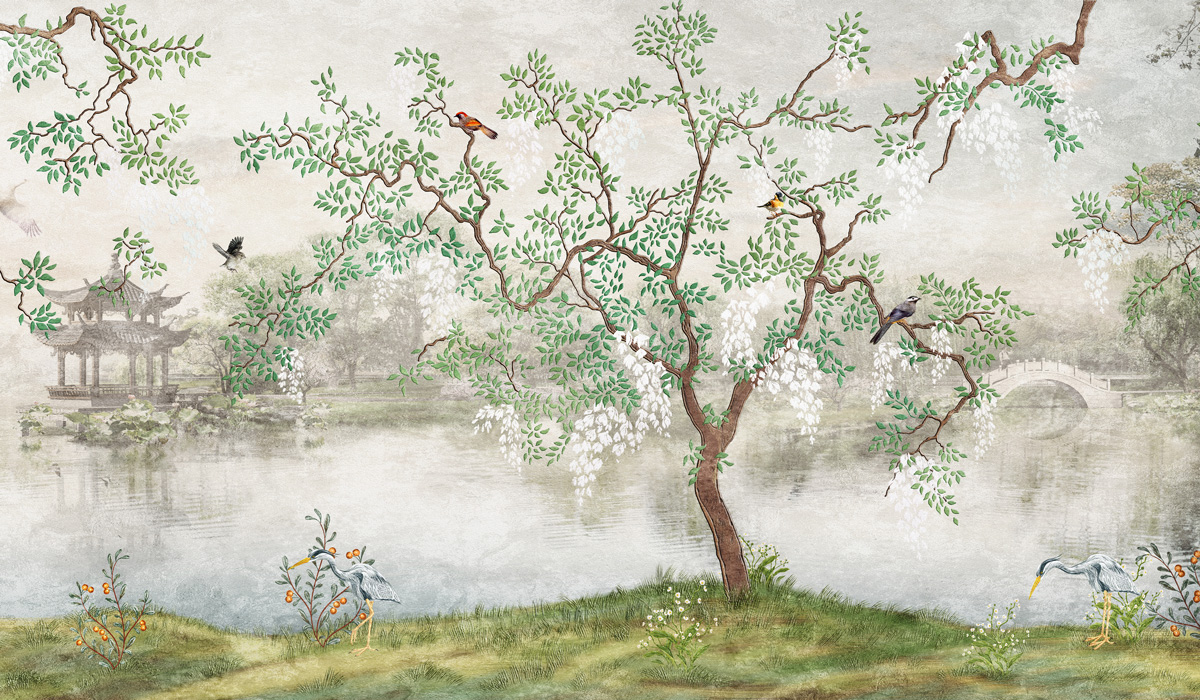 Chinoiserie refers to the typical European decorative style of the 18th century that took its inspiration from the aesthetics of Chinese art. In its begininning, this type of wallpaper was confined to China, a privilege for the few who could afford it.
The typical motifs of this type of decor, which we also find in porcelain objects, include exotic birds, botanical elements, pastel colors, representing some of the main characteristics of Chinoiserie graphics.
This décor is able to transform any room into an elegant and refined space while also including a strong design component with inspiration from the East and the sinuous features typical of this style.
As we've seen throughout this article, there are many choices available among the current trends when it comes to wallpaper.
After taking a look at the main features of this irresistible interior design trend, our hope is that you have a starting point to think about how to use wallpaper in your next project.
Now, it's time to choose which kind you like best, and matches your décor and your own taste!
Happy designing to all!