In the February DomuS3D Project of the Month, traditional elements intermix with modern styling in a living room created with Vives Cerámica.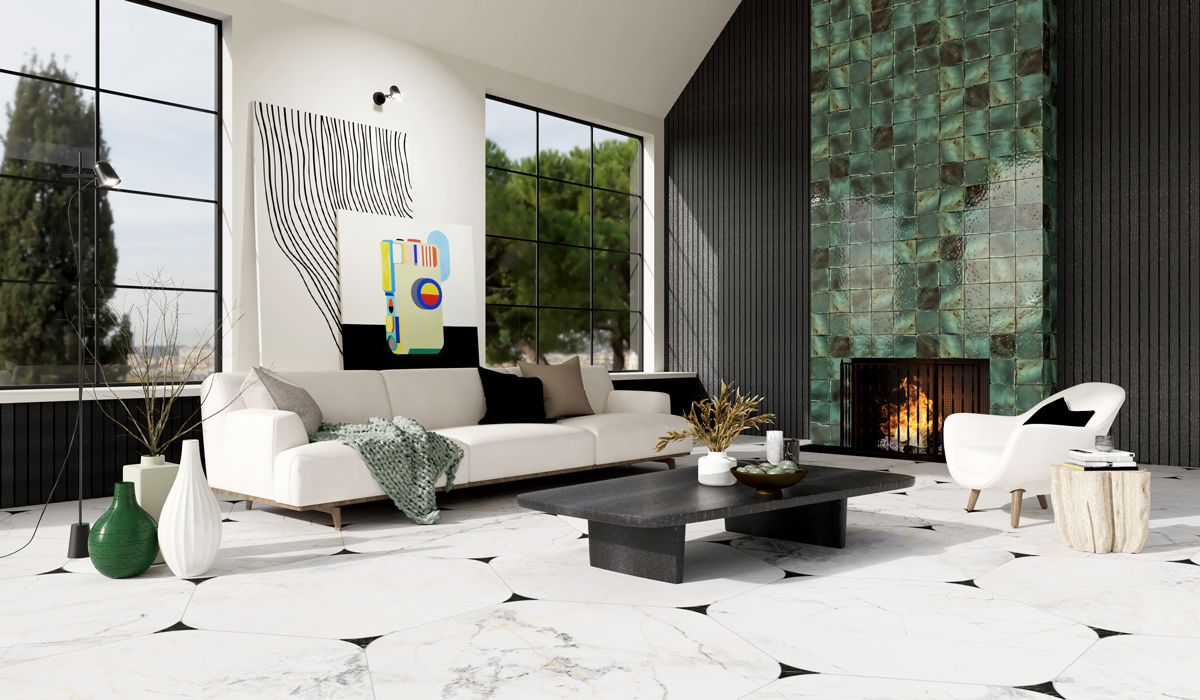 Traditional and modern mix in the February DomuS3D Project of the Month, created in partnership with Vives Cerámica. The project is an open and bright living room, with traditional and modern elements intermixing to create an eclectic and timeless space.
Products used in the project
Luca Jade-B 20×20 cm – The Luca wall tile collection shows off the beauty of traditional ceramic tile from a contemporary, unique, and innovative perspective. Made with a glossy finish and inspired by reactive glaze technique, this series is available in Navy, Jade, and Garnet. The collection is inspired by the heritage of master tile makers while manufactured with innovative production methods.
Pietra Erdek 118.9×108.5 cm and Star Wailea 11.1×12.7 cm – Pietra Erdek and Pietra Wailea, in matte porcelain, and small-size Star Erdek and Star Wailea are enough to make any space unique. These porcelain products are able to transform any room, with the splendor and elegance of marble, and the excellent quality of their finish.
---
Vives Cerámica collections are available in the DomuS3D library
---
Technical details:
| | |
| --- | --- |
| Rendering image size | 4410×2517 pixels |
| Surface area | 72.2 sqm |
| Number of items used | 162 |
| | |
| | |
---
DOWNLOAD IT AND MAKE IT YOUR OWN!
Follow these simple steps:
---
Happy designing!
The Maticad Team
info@maticad.com