Want to learn how to transform your bathroom into a mini, at-home spa? Check out our top five tips to create a bathroom space that is focused purely on wellness, self-care, and relaxation.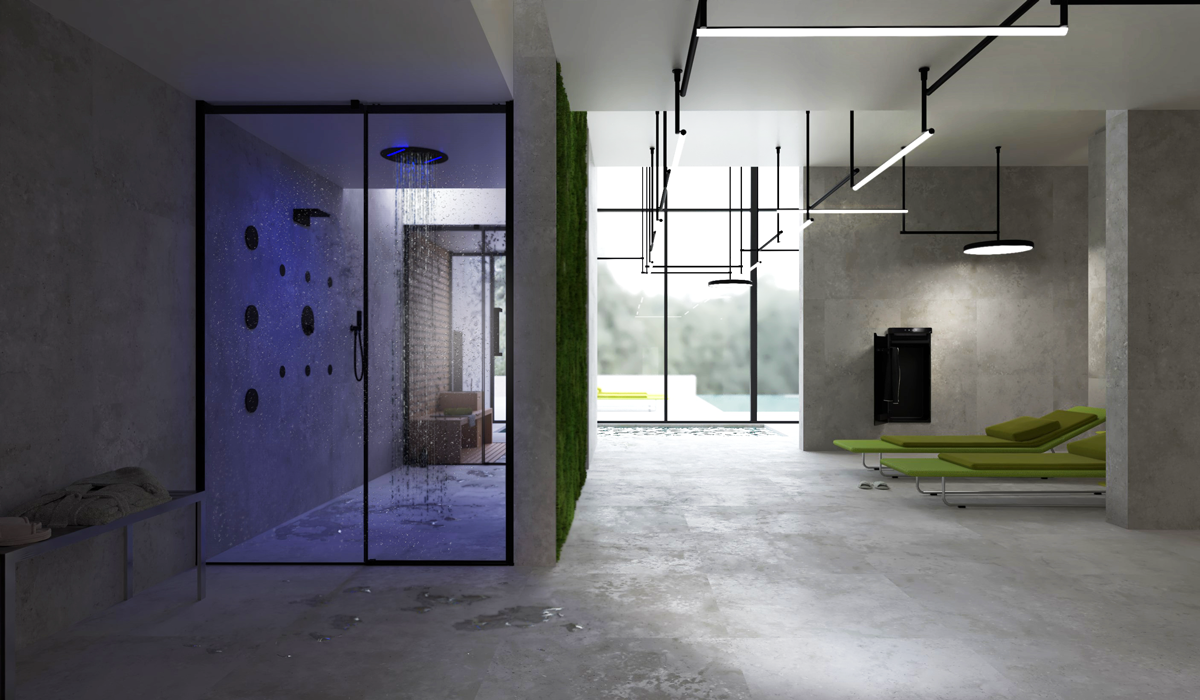 Once upon a time the bathroom, a functional and organized space, would only see us quickly passing through on our way out the house, running to one of our many commitments, or perhaps for a quick shower, at the end of long day, before going to bed.
But how has the home bathroom space been transformed by our experience with the pandemic?
Ok, I know, this question is starting to get old…trying to compare the before and after and come to terms with a "new-normal"…but the experience of the past years has greatly changed our habits and radically transformed the spaces that we live in each and every day.
And among these spaces, of course, we must include our home bathroom.
Whether it's big or small, along with its functionality and necessity in our home, it is almost certainly a place of refuge and relax, becoming more and more often an oasis dedicated to wellness. With the latest modern technology, it's possible to transform a simple bathroom into a mini wellness-center, all without breaking the bank to get there.
And, it's never a bad idea to upgrade your plumbing, lighting, and heating fixtures, which can turn your home into a more energy efficient space and save you tons of money in the long term.
In this article, we'll take a look at our top five tips that will allow you to transform your bathroom into a custom space dedicated entirely to wellness.
To create our own personal spa, here are the five things we'll look at in detail below:
– High-tech showers and faucets;
– Chromotherapy and play of light;
– Bathtubs;
– Saunas and Hammams;
– Materials and Textures;
Let's jump in!
1 – High-Tech Showers and Faucets
A very current trend, not only for style but also for its ecological impact, is the adoption of high-tech faucet systems. These systems are not only more environmentally friendly than older systems, but also include tons of features and functions, letting users choose between different types of water streams, offering water massages, and creating sensory experiences that can be extremely pleasing and relaxing.
One of the most popular choices today is to combine water efficiency and massage effects using water jets. Thanks to a combination of air and delivery pressure, many shower heads offer various water delivery modes, letting you choose which type of water jet to use. This new freedom lets everyone choose, based on their individual needs, to be more conscious in their water consumption without sacrificing the comfort and pleasure of a relaxing water massage experience.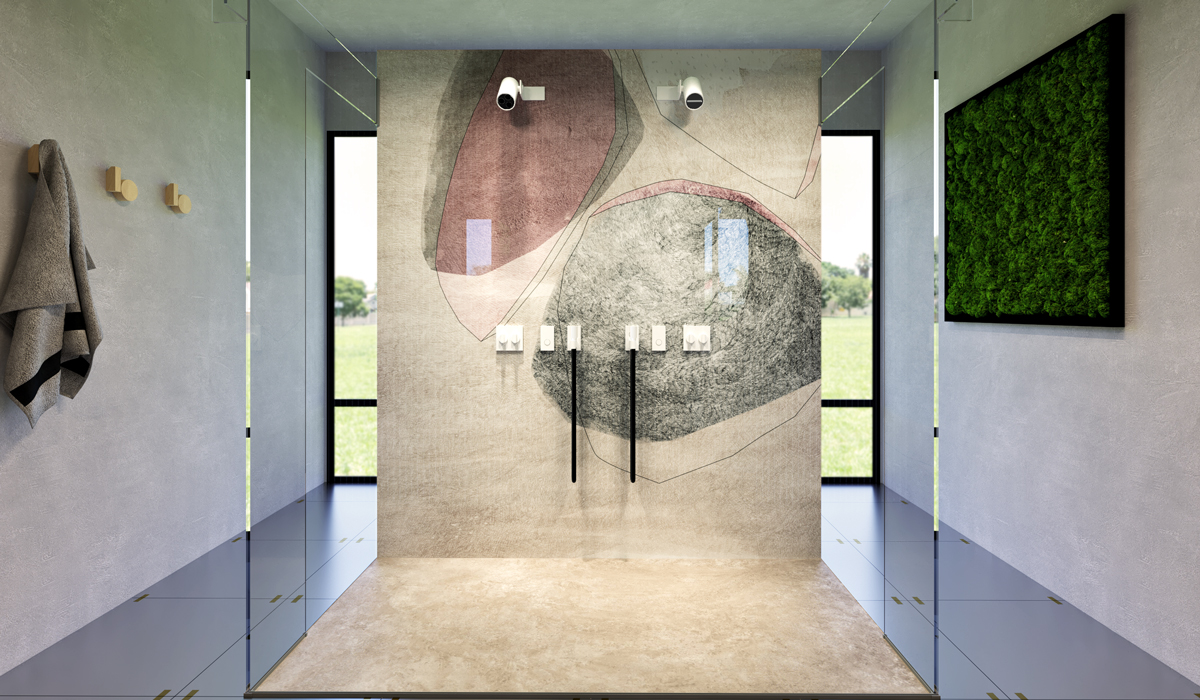 2 – Chromotherapy and Play of Light
We've taken a look at high-tech faucets, but one thing we didn't mention is that we are starting to see lighting systems integrated within shower heads more often, combining the relaxing power of both water and light.
Chromotherapy has quickly become a tool available to the masses, thanks to the selection of functional objects that are able to create different lighting effects and illuminative atmospheres without having to resort to multiple installations, but rather by simply choosing objects that are more complete and integrated.
Let's not forget the possibility to combine these elements with an overall study of the space and a knowledgeable choice for our lighting system for the entire bathroom. For example, we can create areas with differentiated lighting; illumination dedicated to the mirror, with a brighter white light to facilitate a facial beauty routine, while instead choosing a more diffused and enveloping light for the shower or bathtub area, to further the relaxing feeling.
Differentiating and separating lighting systems allows you to dose the quantity of light based on the needs of the moment, achieving maximum comfort and relaxation and minimum impact and energy consumption.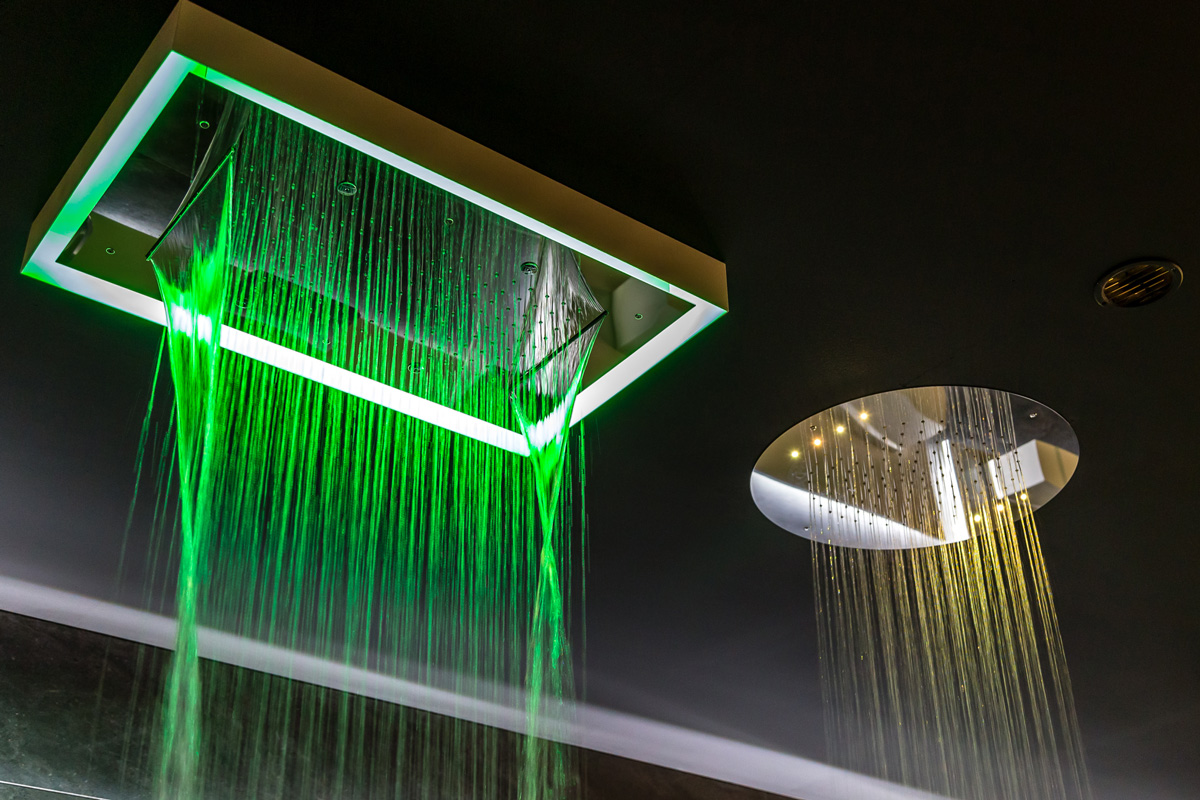 3 – Bathtubs
We already touched on the bathtub area when discussing illumination. Until the 1970s, the bathtub was present in nearly all home bathrooms, but since then we've seen bathtubs slowly disappear in favor of showers, a more practical and faster choice.
Over the last few years, however, we've seen the trend reverse and bathtubs have begun to return to the bathroom, an invitation to dedicate more time for ourselves, to focus on self-care, and to relax.
The wellness bathroom must have a bathtub, and what's more, it is often the central focal point as the ideal element for relaxation. We can choose between infinite possibilities for a freestanding bathtub, curved or square modern tubs, or a traditional clawfoot tub with vintage style, like the iconic tub in "Breakfast at Tiffany's".
We can even choose a round tub; with its notable size, it'll surely become the absolute focal point of our bathroom, a place to relax on our own or with company.
No matter the style or taste, there are plenty of options to choose from.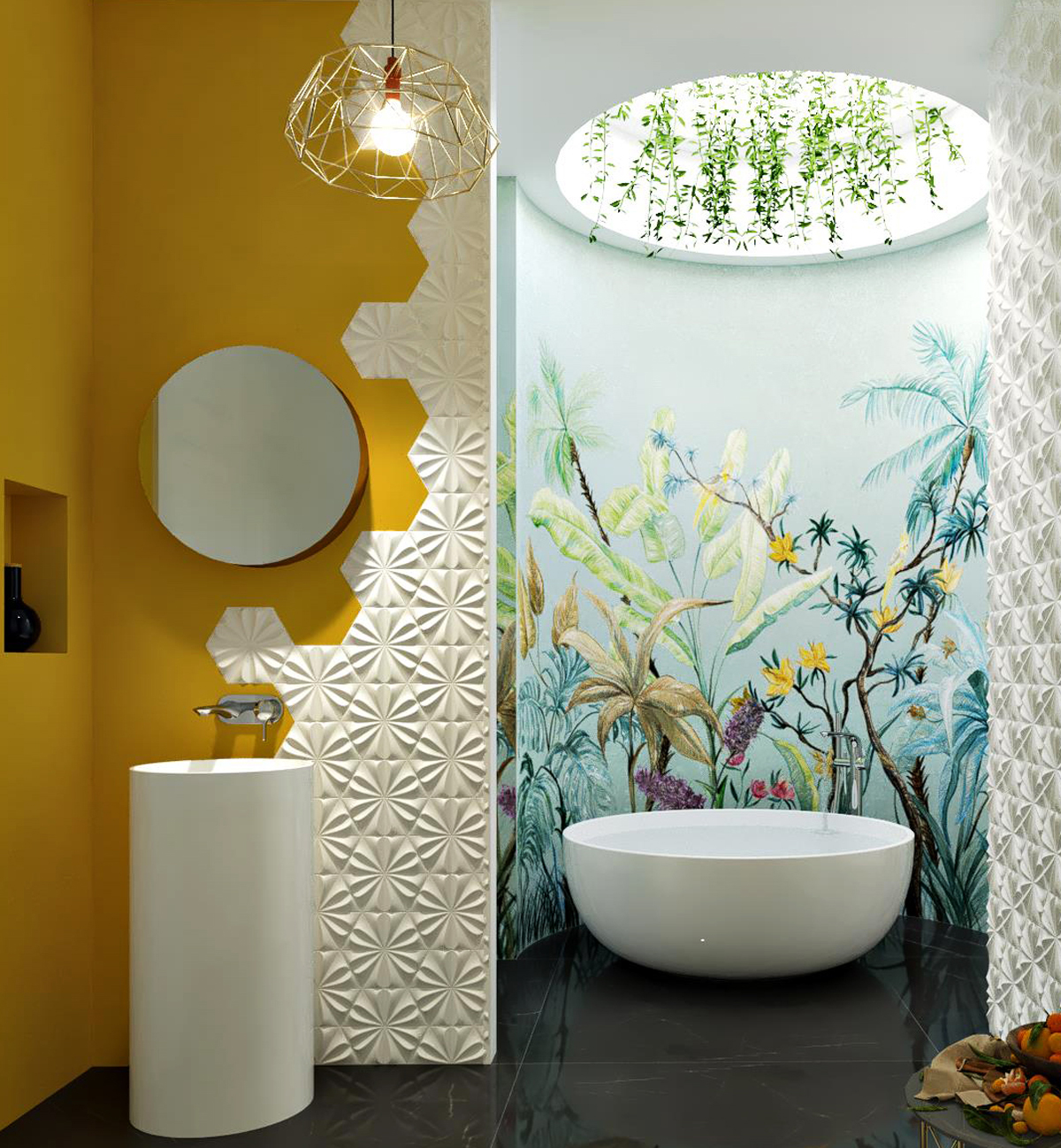 4 – Saunas and Hammams
If you're a true fan of relaxation and wellness, then you'll be the first to welcome these essential wellness elements into your home. Today, there are numerous systems for at-home saunas and hammams available on the market, with a wide array of sizes, shapes, and materials to adapt to the needs of your space and your design.
The beneficial and relaxing powers of these systems can be integrated directly within your bathroom and beyond. The many manufacturers who offer these systems have created luxurious design objects that can be inserted into a variety of interior spaces, including into the bedroom.
The attention to detail and materials ensure that these technological units integrate perfectly into the home just as any simple furnishing item would. In addition to fulfilling the main function devoted to wellbeing, they blend perfectly into the bedroom and thus transform it into a real luxury suite.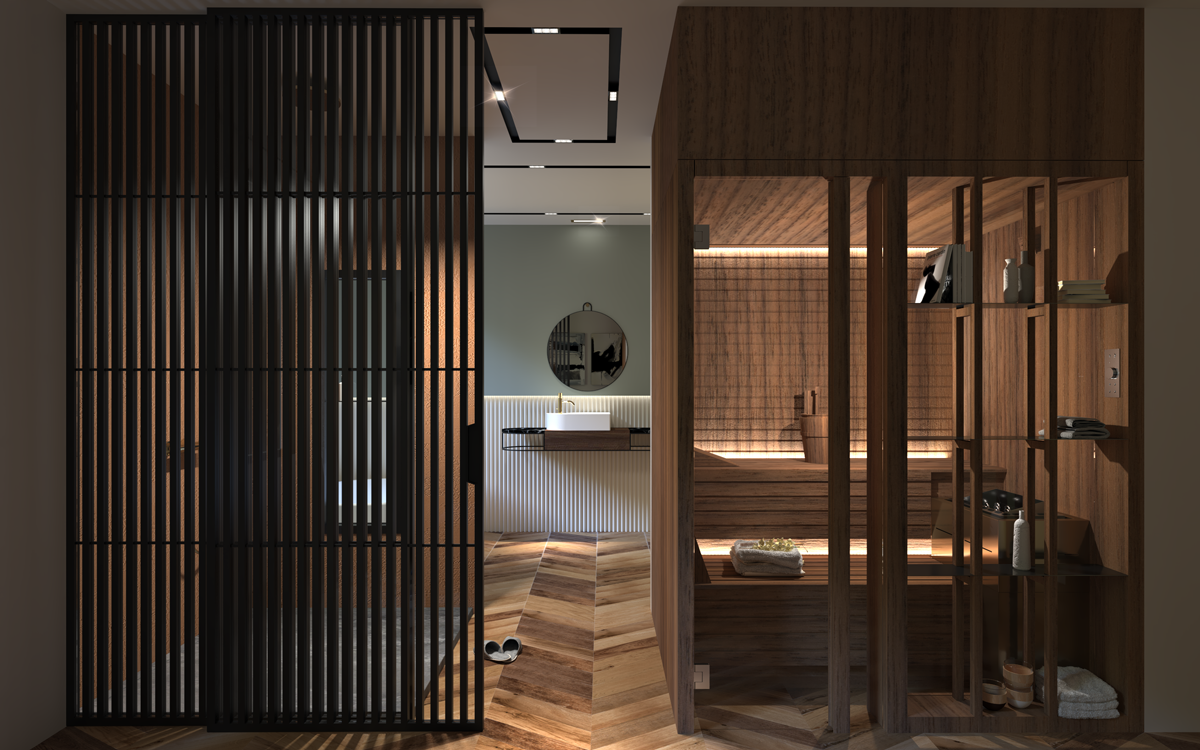 5 – Materials and Textures
Materials and textures are also an important part of creating a wellness bathroom. There are no set rules when it comes to choosing materials, but what is most important is to create a welcoming environment that is never cold. A wellness bathroom is a place of relaxation and refuge; therefore, the choice of warm tones and natural materials will contribute to creating a welcoming and calming environment.
In addition to carefully choosing the materials for the surfaces, it is equally important to carefully choose the right linens and textile accessories to further ensure the warmth of the environment. Soft cotton terry cloth bathrobes, where you can wrap yourself up after a nice bath or hot shower will immediately make us feel like we're in a luxury hotel, pampered by the soft and warm fibers. And don't forget a soft and luxurious bathmat for our bare feet, opting for natural fibers, if possible.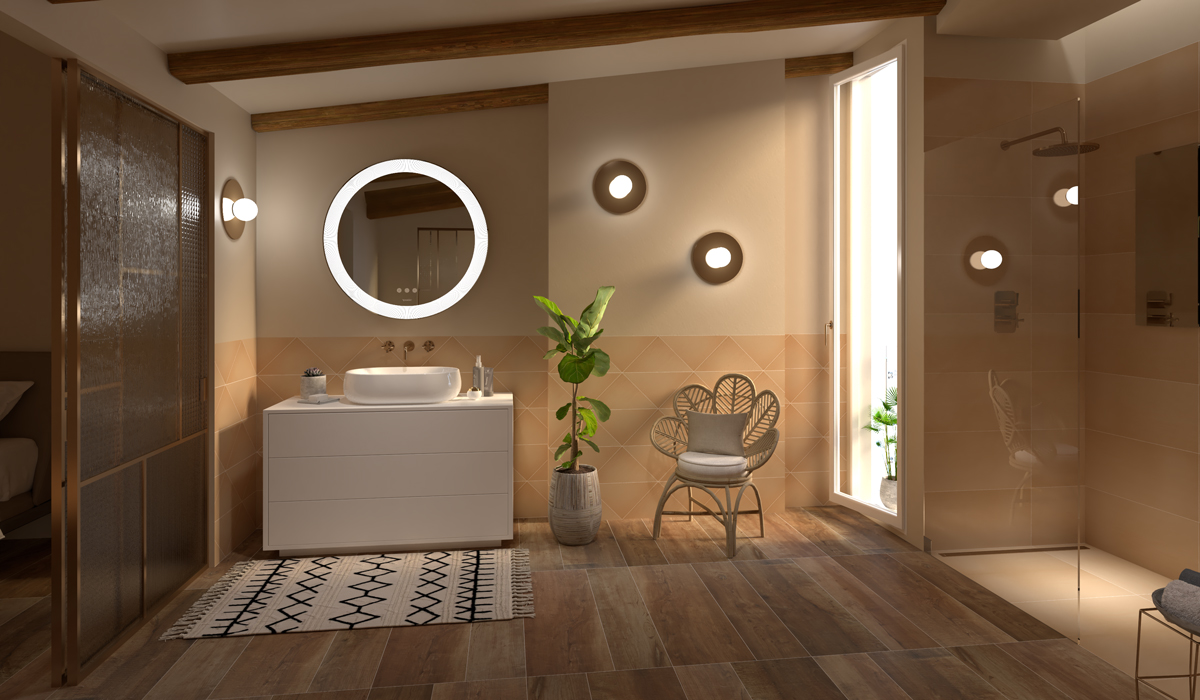 In Conclusion…
For now, we've reached the end of our journey and we've seen the top five tips to create a bathroom dedicated to wellness and self-care. As we've seen, these tips can be taken individually or together, each one helping us transform our bathroom, either our own or one of our clients, into a calm, peaceful, and relaxing oasis where we can seek refuge and dedicate ourselves to our wellbeing.
All that's left is to jump into a new project and choose which of the tips we'll put to use first. As you are designing and simulating solutions, you'll find the latest high-tech and innovative products within the DomuS3D library, so there really are no more excuses! It's time to get started!
Happy designing to all!