The May 2023 DomuS3D Project of the Month is a trendy lounge bar by Tecnografica. Featured in the design are Onice Cappuccino back-lit decorative panels and Japan Forest wallpaper.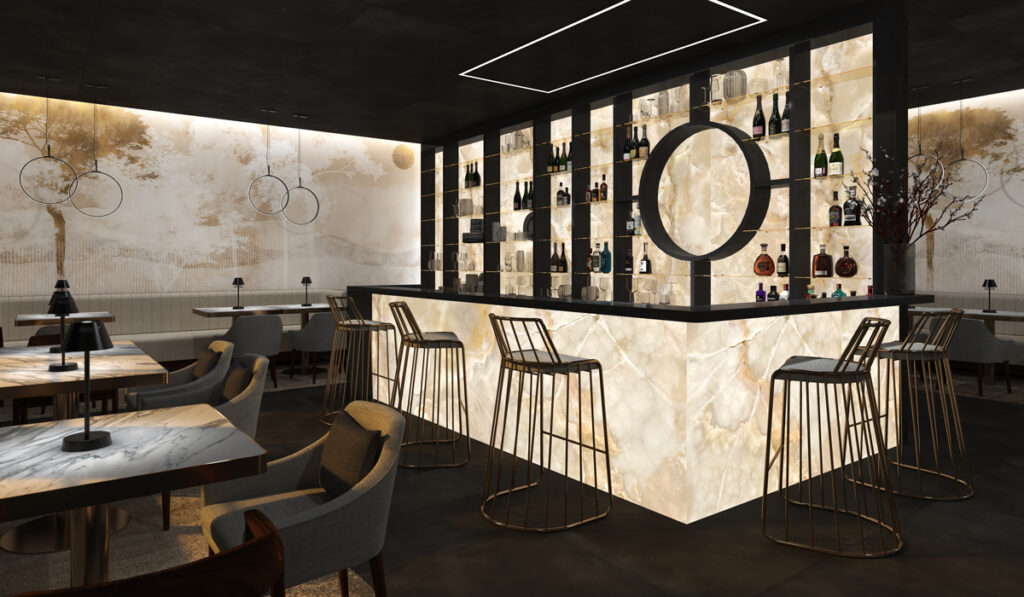 For the new DomuS3D project of the month, we partnered with Tecnografica, a leading wallpaper and innovative decorative wall panel manufacturer from Italy. The project is a trendy loung bar, rendered with night-time light to emphasize the unique effect of the back-lit surfaces used in the project. The project can be downloaded from the Live! page of DomuS3D.
Tecnografica brings the interior design of this Lounge Bar to life with the Dècora Glass Backlit "Onice Cappuccino" decorative panels and the Metal Finish Wallpaper "Japan Forest". The two finishes, with the luminous panels in stratified glass and the metallic effect wallpaper, were specifically paired together to highlight the structure of the bar, positioned in the center of the room and framed by the decorative walls.
The modern and elegant style of the bar blends with clear references to the natural world: the graphics chosen bring into focus, on one side, the natural stone of "Onice Cappuccino" for the panels and, on the other, the Japanese forest of "Japan Forest" for the wallpaper.
In addition, the versatility of the Dècora Glass Backlit decorative panel lets it be used both as a featured wall behind the bar, as well as for the bar counter below. Among the strengths of Tecnografica's products is, in fact, the ability to completely customize their use based on a specific project. Added to this is the absolute freedom to combine wallpaper and decorative panel finishes; their combined use is able to bring a completeness and coherence to the style and design of any space.
Tecnografica Products used in the Project
– Walls: "Japan Forest" Metal Finish Wallpaper
– Bar counter and featured bar wall: "Onice Cappuccino" Dècora Glass Backlit Decorative Panel
---
Tecnografica products are available in the DomuS3D library
---
Technical Details:
| | |
| --- | --- |
| Rendering Image Size | 4410×2517 pixels |
| Surface Area | 94.63 sqm |
| Number of Items Used | 66 |
| | |
| | |
---
DOWNLOAD IT AND MAKE IT YOUR OWN!
Follow these simple steps:
---
Happy Designing!
The Maticad Team
info@maticad.com