The iCon collection by Geberit features in the latest DomuS3D Project of the Month. The complete project is available for download from the Live page of DomuS3D.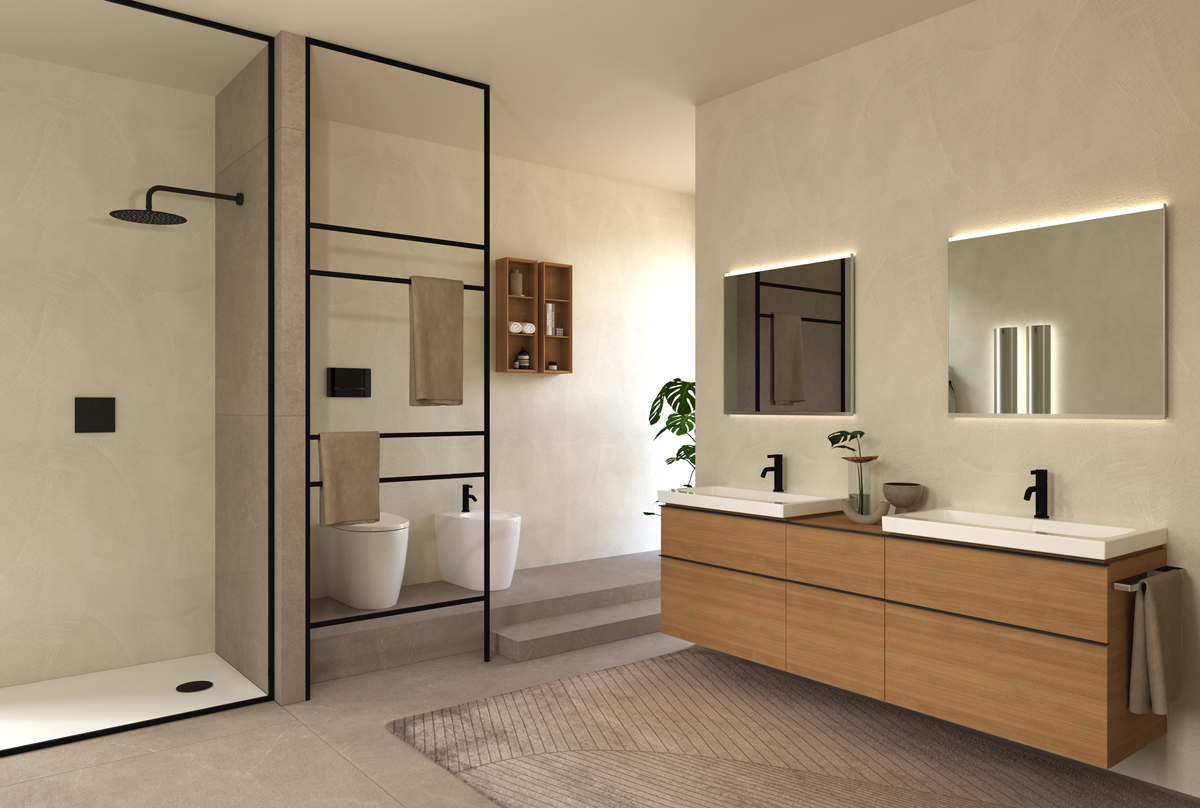 The October 2022 DomuS3D Project of the Month was created in partnership with Geberit. The modern look and high-tech solutions of the Geberit iCon collection play the leading role in this contemporary style bathroom design. Alongside the iCon ceramic and bath fixture collection, the project includes the Geberit Option Plus mirror, the Geberit Olona shower tray, and the Sigma50 flush plate.
Products used in the Project
Geberit iCon
With a wide range of ceramic appliances and bath furnishings that feature a modern design language with simple and clean lines, this collection offers maximum design flexibility and stands out for its extraordinary versatility and completeness. A bath collection of items with soft and subtle shapes, with a wide range of washbasin sizes, designed to effortlessly appear in any bathroom environment.
The modular furnishing concept proposed by Geberit iCon offers nearly infinite design flexibility. An ideal solution to meet the wide ranging needs of bathroom design with a single product collection. Essential and refined shapes hide high-tech solutions that range from slow-closing technology to the hygiene technology of Rimfree® WCs.
Geberit Option Plus
Option mirrors illuminate exactly where needed while also creating the perfect overall atmosphere thanks to their pleasing ambient light. The Option Plus model offers additional comfort by illuminating the vanity area with its integrated lights, indirect from the upper part and direct from the lower part, to better illuminate the room, the sink, and the face. Both light sources are dimmable with a touch sensor and memory function.
Minimalist look, a wide range of sizes, slim edges that allow for multiple possibilities for installation, and a matching drain cover with chrome edges make a perfect fit with the other items of the bathroom. Soft shapes, innovative materials, and technology meet to guarantee comfort, maximum hygiene, and high performance.
Geberit Sigma50
Geometric definition, refined curves, essential design, and high-quality materials come together in a single product that gives a true touch of style to any bathroom: the Geberit Sigma50 flush plate. The flush plate is characterized by a dual control flush with a sleek and thin horizontal button in a dual finish, glossy on its edges and brushed in its center, with an "anti-fingerprint" treatment that facilitates cleaning and ensures the highest level of hygiene over time.
---
Geberit bathroom products are available in the DomuS3D digital library.
---
Technical Details:
| | |
| --- | --- |
| Rendering image size | 4410×2517 pixels |
| Surface area | 18.38 sqm |
| Number of items used | 48 |
| | |
| | |
---
DOWNLOAD IT AND MAKE IT YOUR OWN
Follow these simple steps
---
Happy Designing!
The Maticad Team